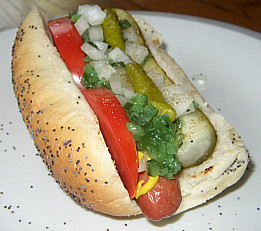 What do you get when you combine an all beef hot dog, pickle relish, chopped onions, tomatoes, sport peppers, mustard, pickles and celery salt on a steamed poppy seed bun?
A Chicago style hot dog of course. It's a local delicacy. There's a hot dog joint across the park from my house. They make them perfectly. Putting ketchup on a hot dog is blasphemy in Chicago. At the shop by my house, anyone over the age of 12 is fined 10 cents for asking for ketchup on their hot dog. Not that I would ever do such a thing.
When I was diagnosed with diabetes last summer one of my first thoughts was of hot dogs. I wondered if I would ever have one again. I worried I would be abandoned in a world of bland and boring food.
Today it was 100 degrees F. in the shade. All I wanted was a hot dog and an ice cold beer. It's taken me a long time to get over my fear of eating the wrong things. My insulin pump has made it easier for me to bolus more accurately, which lessened my fear. I've been trying more things. As Bea (@crankypancreas) will tell you, my experiments with caramel lattes haven't always worked out so well.
Today I had a hot dog and a cold beer for lunch. My blood sugar stayed in range. A small thing and yet it was a big victory for me. Almost a year ago I was diagnosed with diabetes. Everything about my life changed. But, some things have stayed the same. Like savoring a Chicago style hot dog and a cold beer on a hot summer day.